Analysis of five points for attention in purchasing laser cutting machine
Views:56468 Author:heyu Publish Time: 2020-02-24 Origin:Site Inquire
  With the development of economy, China's heavy industry is also developing rapidly. Laser cutting machine, metal laser cutting machine, fiber laser cutting machine and other laser cutting equipment are essential equipment in various industries. This kind of cutting equipment is less than tens of thousands of yuan, often hundreds of thousands or even millions of yuan. How to buy products with good quality and low price has become a problem. Huayucheng CNC summarized several precautions for users' reference.
  We are willing to spend hundreds of thousands of millions to buy metal laser cutting machines, optical fiber laser cutting machines, etc. first, they have become our fixed assets; second, we must hope that they have a long service life, high working efficiency, and as a fixed asset investment, the loss is small. When purchasing, we should pay special attention to the quality of the products, and the buyer should not pay too much attention to the difference in the price for a while and choose inferior equipment.
  So during the purchase, we should pay attention to the following points:
  1. According to their own demand parameters, determine the specification parameters of the laser cutting machine to be purchased. At the same time, consider that there is a certain margin to determine the parameters of the machine after expanding the scale of the enterprise in the future. Especially for the metal laser cutting machine, for the required range of cutting material thickness, after the model parameters of the machine are determined, you can contact the manufacturer for help to make an idea.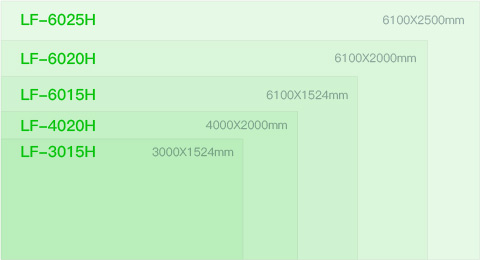 2. In this link, it's easy for friends to ignore to confirm which manufacturers produce the machines to be purchased. No matter which manufacturer is contacted, the manufacturer will basically inform the professional manufacturer to produce the products of this model. In fact, the models produced by different manufacturers are often different, and the manufacturer often provides various models of products through the way of goods transfer. So users should pay special attention to choose the best one for themselves.
  3. After contacting many enterprises that produce laser cutting machine, the most important step is to choose the manufacturer after obtaining the price, parameters, payment and delivery method of laser cutting machine. Generally, a reliable manufacturer is selected after removing the highest and lowest price, so as to obtain better cost performance and guarantee the quality and after-sales service.
  4. Select several special laser cutting machine manufacturers as comparison, and learn more about the use of users who have purchased laser cutting machines around, the quality of laser cutting machines, especially the after-sales service. Comprehensive consideration, choose the best price, the best service manufacturers.
  5. After confirming the laser cutting machine manufacturer, the next step is to sign a contract to pay the deposit, take the money to pick up the goods or pay on delivery and other related matters. If possible, it's better to visit the manufacturer. Generally through the above steps can basically buy the product! leapion